The GE-315N15 Series Vane Type Flow Switch is a new type Paddle flow switch, avoiding rust and bad contact by separating the electricity from the liquid. This products totally give up the isolating part for water and electricity by corrugated pipe applied on common target paddle flow switch. When the micro switch is operating, it will not touch with low temperature metal part, so no condensation water, no rust and bad contact, and the Protection Grade up to IP65, it could be applied in corrosive air environment. CE certificate for the flow switch, UL certificate for micro switch.
GE-315-N15 adopt brass body, low price to save the money. GE-315-N15SS flow switch adopt standard heavy duty leak proof Stainless Steel body. It could work for the pipe size 15mm to 150mm. International Protection could be IP68 (Optional). CE certificate for the flow switch, UL certificate for micro switch, which is made in Japan.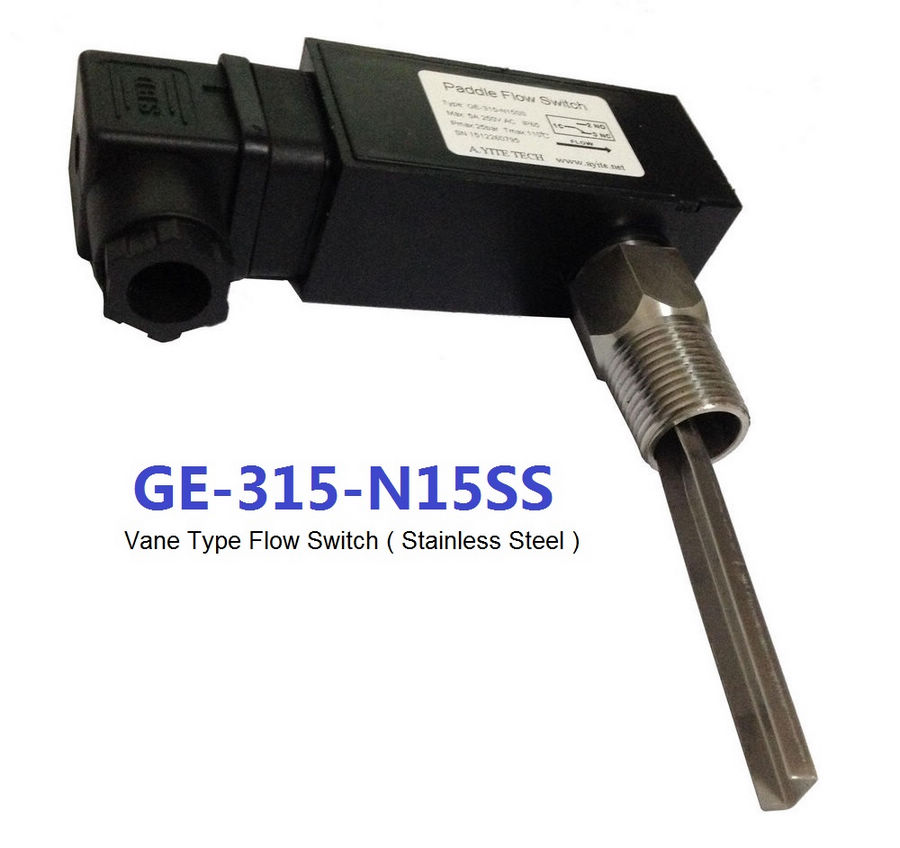 Specification:
* Wetted Material: Brass & Stainless Steel (GE-315N15);
Stainless Steel (GE-315-N15SS)
* Output: SPDT NO+NC
* Metering Substances Oil, Water, Gas, Air
* Environmental Temperature: -40C ~ 95C
* Medium Temperature: -40C ~ 110C
* Install Pipe Size: DN15~DN150
* Max Capacity Rating: AC250V 3A; AC125V 5A.
* Wire Connector: DIN Hirschmann
* Max Pressure: 50bar
* Pipe Connection: Male BSP1/2" NPT1/2" or customized size
* Enclosure Rating: IP65. IP68 in option
* Mounting Orientation: Switch can be installed in any position but the actuation/deactuation flow rates are based on horizontal pipe runs and are nominal values.
* Vane is trimmable.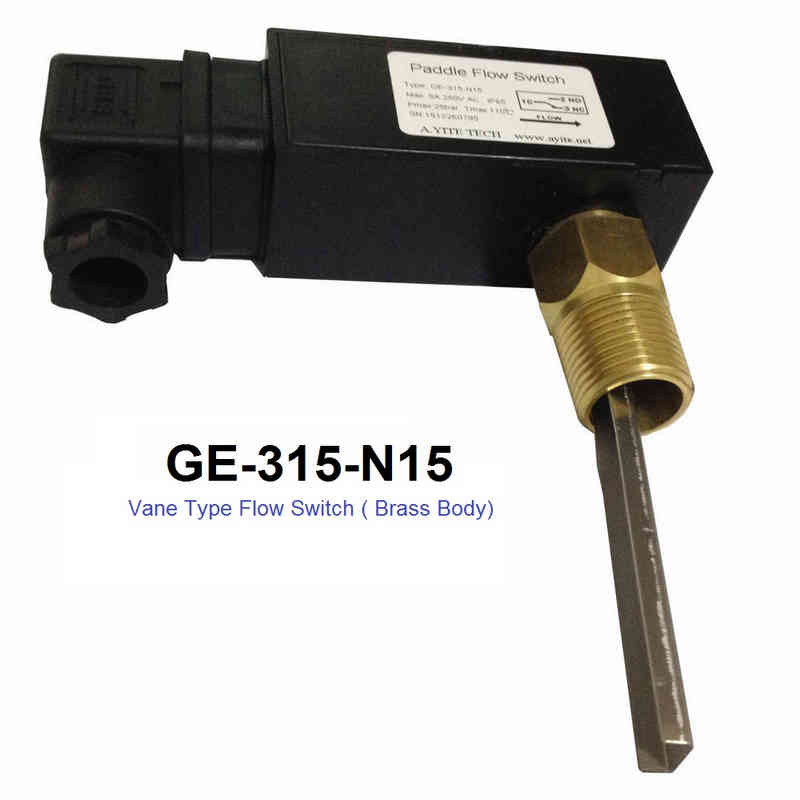 This flow switch is similar as Sika VHS & Honsberg UM3K UR3K CM2K series flow switch, but much lower price, it could save much money for the user.