How to install Flotect V10 V11 V10SS Vane Type Flow Switches
1. Brief Introduction:
Flotect V10 V10SS V11 series flow switch utilizes a rugged, hermetically sealed reed switch which is encapsulated in a polypropylene switch housing that fits into a standard heavy duty leak proof Stainless Steel body. It could work for the pipe size 15mm to 150mm. International Protection could be IP68 (Optional). CE certificate for the flow switch, UL certificate for micro switch.
* Wetted Material: Brass and Stainless Steel
* Medium Temperature: -40C ~ 150C
* Install Pipe Size: DN15~DN150
* Max Capacity Rating: AC300V AC0.5A, DC350V DC0.7A, Max 50W
* Wire: AWG22 Red Color 1000mm
* Max Pressure: 100bar

2. Pipe Connection
2.1 The max pressure of pipe could not be more than 50bar
2.2 This V10 V11 V10SS Flow Switch should be installed at the top of a horizontal pipe, it could work for vertical pipe too.
2.3 The connection is NPT1/2" Male Thread for the flow switch, so the pipe should have a base with 1/2" Female Thread, the height of base could be 15mm-20mm
2.4 The end of the paddle should be far away from the bottom of pipe by more than 2-3mm, to avoid the sludge or sediment impeding the movement of paddle, if install this flow switch in a horizontal pipe
2.5 the Paddle should crosscut vertical with the water flow
3. Wire Connection
3.1 The standard signal of flow switch is Normal Open, if need Normal Close, please declared when ordering it.
3.2 the V10 V11 V10SS adopt a a single-contact reed switch designed for high breakdown voltage of 600 VDC and high power of AC 70 VA and DC 50 W. The contacts are sealed within the glass tube with inert gas to maintain contact reliability.
4. Water Flow Switch Diagram

Pipe

On

off

mark

DN15

3.3

3

The length of paddle in the pipe, it should be 2/3 of diameter

DN20

4.6

4.2

DN25

7,3

7

DN32

15

14.2

DN40

25.3

24

DN50

36

34.4
5. Related Products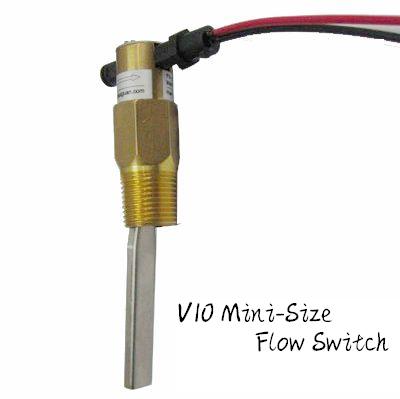 V10 V11 series Mini-Size Flow Switches
inexpensive, reliable unit to monitor the presence or absence of flow ...
V10SS Paddle Flow Switch with SS304 SS316L body
The V10SS flow switch utilizes a rugged, hermetically sealed reed swit...