Pay attention to 10 points when selecting flow switches
(the copy rights belongs to ZHOU ENSI LTD, reproduce is not allowed)
At first, Flow switch is not a water valve, it only detects the water flowing in the pipes, the water flow switch doesn't turn on or off the water. It just sets off the alarms by activating electrical switches. The flow detective switch is named according to the measurement medium, so it usually refers to the switch that can measure the steam or water flow.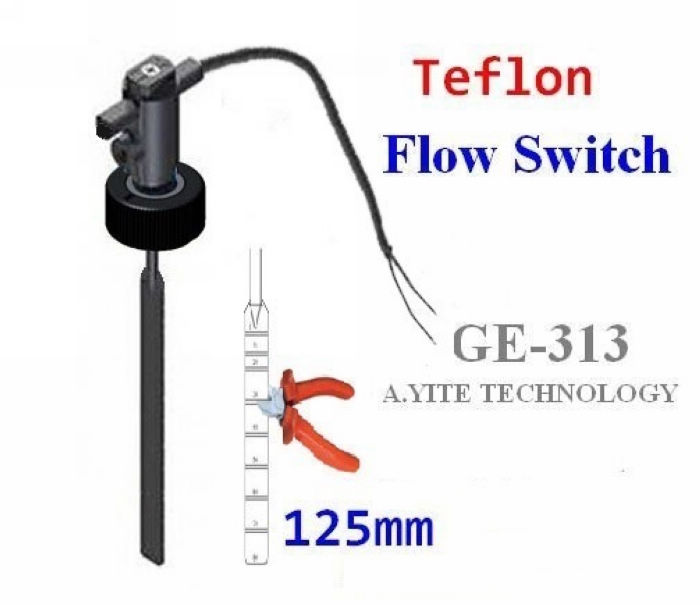 GE-313 Teflon PTFE Plastic Paddle flow switches
This flow switch is produced by teflon plastic material with a long pa...
Because there are many kinds of flow switches, people are at a loss when they choose flow switches. They don't know how to choose. So how to choose the right flow switch?
The importance of switch selection: the flow effect of water flow switch is determined by the accuracy and installation requirements.
Only these two aspects are consistent, then the flow of the flow switch must be accurate. The buyer must provide the switch manufacturer with necessary parameters, including the installation site, shell material, surrounding environment and other information. Fully consider all aspects that may affect the flow, and finally choose a suitable switch according to the performance of various flows.
1. Max Pressure of the liquid pipe;
2. The voltage and max current, which the flow switch connect to
3. Medium temperature, medium minimum flow, common flow and maximum flow,
4. Pipe material,
5. accuracy
6.
Protection level
7. Pipe size, Thread type;
8. will it need anti explosion proof?
9. will the liquid be corrosive;
10. will there be much suspended solid in the fluid?
ATEX Explosion Proof Bidirectional Paddle Flow switch
GE-341 flow switch use new structure, could monitor the flow by Bidire...
In conclusion, to select the appropriate flow switch, in addition to the function selection according to their own needs, we should also make a reasonable choice according to the characteristics of fluid working conditions, installation requirements, environmental conditions, economy and parameters provided by users